Note: Perspective 5.1 and later supports SAML 2.0 for single sign-on. See What is SSO and How Do I Get It? for more information. While Windows authentication is still supported for version 5.1 and later, it's available for Perspective only. See Perspective 5.1 and Later: Enable Windows Authentication for more details.
In order to use Windows Authentication (based on your Active Directory), you must:
Have the Security Role Service for Window Authentication installed.
Have Time Synchronization enabled in your environment.
Set up an Active Directory group for Perspective Users.
We recommend that clients hold off on attempting to use Windows Authentication until they have gone through their training and understand how to create users, roles and workgroups within Perspective, as this is integral to the operation of the system.
Notes:
Mixed Mode Authentication is not supported for Version 3.3 or Version 4.0. Your Organization will need to choose either Perspective Authentication or Windows Authentication. Mixed Mode Authentication is support  for Version 4.0.2.
The new Dispatch Application (introduced with V5.0) and the iOS Application do not support Active Directory Authentication.
Perspective Service Manager Setup:
Once you have set up the Active Directory group and Perspective Users, open your Perspective Service Manager, open your Perspective database, and open its Authentication Mode tab.
Check the Windows Authentication option, click OK, then click Save.
In IIS, open the Default Web Site and your Perspective Services site.
Double-click the Authentication icon.
Ensure that:

Windows Authentication is Enabled.
Anonymous Authentication is Disabled.

Return to the previous screen and click Edit Permissions on the right side menu.
Open the Security tab, click Edit, and add appropriate Perspective Groups with View, Read, and Execute permissions.
Reset IIS once you have completed the steps to ensure the changes take place.
Test logging in with a User who is set up for Windows Authentication in Perspective.
Perspective User Set Up
Once you have gone through training and the appropriate set up is in place for Workgroup & Role, when you create the user, you will need to enter the Windows Login ID Field on the User: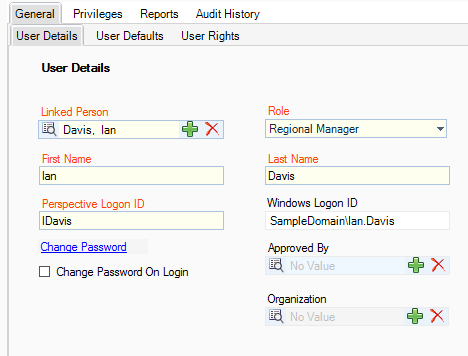 The Windows Login ID will need to be entered as: domain\UserID
Example: resolver\firstname.lastname
Please make sure that you do not enable the "Change Password on Login" feature, as this will not help with the login process for your clients.
See also: