With your subscription to Resolver, you become a member of our Support Program, and you'll get: the answers you need when you need them, free updates and upgrades, and the best deal possible for software, services, and support. With in-house development, dedicated technical support, and full-time customer service, we are ready to handle all of your inquiries, and we are ready to deliver the service and support you expect.
Support resources & programs to help you succeed
By subscribing to your system, your team will have access to online tools, training, and support to help you successfully launch your Resolver system. Your system automatically gives you access to set level of support.
It's about benefiting from a program that will protect your software investment and optimize the day-to-day use of your system. Your system automatically gives you access to set level of support.
Unlimited Technical Support
Have a quick question? Need help with installation? Need help troubleshooting? Our technical support team is available to help you with your questions based on your support level. Submit your questions through our website, by phone, or by email–and our dedicated support team will help you move forward. Choose the mode that suits you best, and contact us as often as you like knowing that, as a Support member, you will always receive an answer. If you are a Professional or Enterprise Support member, you will have access to an exclusive toll free number, and we will respond to your calls 24 hours a day, seven days a week.
Support covers:
Technical Support: Pertaining to the resolution of errors, access issues and environmental questions. Technical support does not extend to technical issues solely implicating a customer's computer systems, servers and devices, or any software other than Resolver's. Support is also not provided for network or communication or devices not owned, controlled or managed by resolver that are used to access our software, or for recovery of lost data due to user error. However, Support does extend to technical issues that relate to interoperability or compatibility between the software services and computer systems, devices, third party software, or network/communication systems configured to Resolver specifications. For on-premise customers, installation of system requirements is required prior to our team supporting your organization in the installation of our software in your environment.
End User Support: pertaining to answering questions about how to use the software. Please Note: Our Support team may refer customers who are in need of educational or services based configuration that are beyond basic how-to questions to their Customer Success Manager.
Access to Customer & Idea Portals
❱ Every Support member gets access to self-service resources including our online Customer Portal. It provides:
❱ Access to the latest news, tips, and product documentation including installation guides, fact sheets, and user guides.
❱ Our knowledge base and 'search everywhere' option, which makes it quick and easy to find answers to common questions.
❱ Our training resources wiki provides access to product orientations, recorded training sessions, and short how-to videos to help you build your knowledge about your product—as you can't learn everything from a manual!
❱ Access to our Idea Portal to track your idea submissions, as well as vote on and discuss with both our product team and other customers on how our product should be updated.
Free Updates and Upgrades
As a part of our ongoing commitment to enhancing our products, we regularly release new versions of our software based on feedback from our customer base.
If you are an on-premise customer, being a support member means that when a new release is available, you are automatically notified and given the option of upgrading—at no additional cost.
For our cloud-deployed customers, your Support membership means that we automatically upgrade you—so that you are always on the latest version of our software, and experiencing the benefits of new features and functionality.
Dedicated Customer Success Manager
Professional and Enterprise Support members get a dedicated customer success manager (CSM). Your Resolver CSM collaborates to help you work faster and smarter to achieve your business goals.
Response Targets
Please review our severity and response times here: https://support.resolver.com/hc/en-ca/articles/208377363-Technical-Support-Center-Response-Times
Software Lifecycle Policy 
Resolver will provide support based on documented lifecycle policies as they relate to each product. Lifecycle policies will be posted on our customer portal and updated with each release of a product.
Support Levels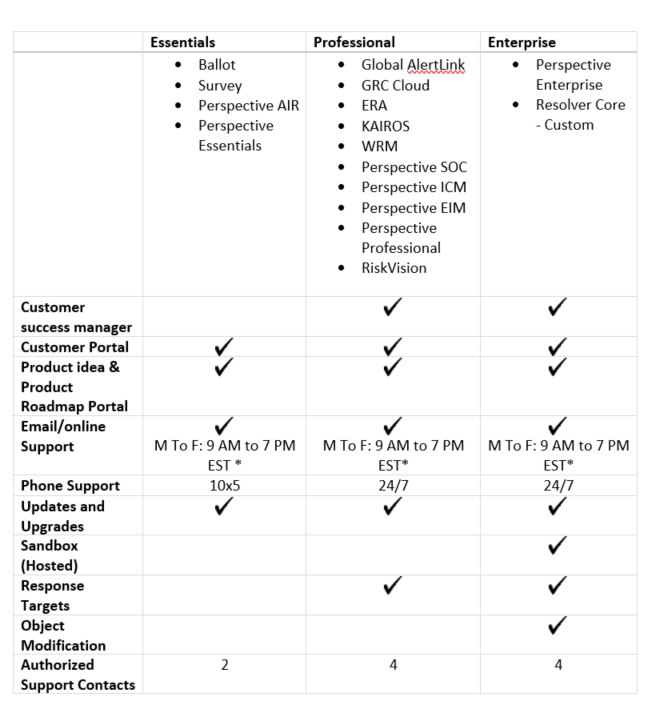 *Resolver WRM Customers have access to regional support hours based on location.
For UK, Europe, Middle East & Africa: 9:00 AM to 5:00 PM GMT
For New Zealand, Australia & the Pacific: 9:00 AM to 5:00 PM NZDT
For the Americas: 9:00 AM to 5:00 PM EST
Hosted – Software as a Service Support
Only Applicable to SaaS Hosted sites for GRC, Resolver Core and Perspective.
Hosted Service Availability Target
Resolver will use reasonable efforts to make the online portion of Software Services available 99.9% of the time during a twenty-four (24) hour period, seven (7) days a week, except during scheduled maintenance, or any unavailability caused by Force Majeure.
Hosted Scheduled Maintenance
Resolver will communicate Scheduled Maintenance at least seventy-two (72) hours' in advance to Authorized Customer Contacts via email notification and customer portal notification with the exception of Emergency Maintenance. Emergency Maintenance notification will go to Authorized Customer Contacts only when deemed necessary by our team – with notification timing based on the severity of the maintenance. Maintenance downtime shall not exceed twenty four hours (24) in any given month.
Hosted Notifications
Resolver Customers are responsible for providing Resolver with current contact information for hosted notifications. Changes or additions of contacts can be submitted to customer.services@resolver.com
Outage Reporting
Resolver will notify customer contacts when an issue occurs in more than one hour of Service Unavailability. Resolver will contact Authorized Support Contacts by email.
Data Backup and Retrieval
All client data contained in a Resolver managed environment is backed up on a monthly full, weekly differential, and hourly transaction log, rolled over on the 1st of the month. Client data is backed up to a network device then copied to Amazon Simple Storage Service S3. Client data can be retrieved from back up on client request, with restorations from the local network device being accessible within 24 hours (based on business hours) and S3 data being available within 72 hours of request.
Disaster Recovery
| | | | | | | | | | |
| --- | --- | --- | --- | --- | --- | --- | --- | --- | --- |
| Failure Type | Resolver Core | Perspective | GAL Shared | GAL Dedicated | GAL Dedicated - DR | RiskVision | RiskVision - DR | WRM | GRC Cloud |
| Failure of a single Virtual Machine host drive controller, power supply or network interface | Components are redundant. 99.9% availability, 2-hour RTO | Components are redundant. 99.9% availability, 2-hour RTO | Components are redundant. 99.9% availability, 2-hour RTO | Components are redundant. 99.9% availability, 2-hour RTO | Components are redundant. 99.9% availability, 2-hour RTO | Components are redundant. 99.9% availability, 2-hour RTO | Components are redundant. 99.9% availability, 2-hour RTO | Components are redundant. 99.9% availability, 2-hour RTO | Components are redundant. 99.9% availability, 2-hour RTO |
| Failure of a single Virtual Machine host | Host capacity exists to move VMs to alternate hosts in the event of a host failure. 99.9% availability, 15-minute RTO | Host capacity exists to move VMs to alternate hosts in the event of a host failure. 99.9% availability, 15-minute RTO | Host capacity exists to move VMs to alternate hosts in the event of a host failure. 99.9% availability, 15-minute RTO | Host capacity exists to move VMs to alternate hosts in the event of a host failure. 99.9% availability, 15-minute RTO | Host capacity exists to move VMs to alternate hosts in the event of a host failure. 99.9% availability, 15-minute RTO | Host capacity exists to move VMs to alternate hosts in the event of a host failure. 99.9% availability, 15-minute RTO | Host capacity exists to move VMs to alternate hosts in the event of a host failure. 99.9% availability, 15-minute RTO | Host capacity does not exist to move the VM. It would be contracted on demand. RTO is best efforts. | Host capacity exists to move VMs to alternate hosts in the event of a host failure. 99.9% availability, 4-hour RTO |
| Failure of power, cooling, switches, firewalls and internet connectivity to the Virtual Machine hosts | All components are redundant. 99.9% availability of all components, 15-minute RTO | All components are redundant. 99.9% availability of all components, 15-minute RTO | All components are redundant. 99.9% availability of all components, 15-minute RTO | All components are redundant. 99.9% availability of all components, 15-minute RTO | All components are redundant. 99.9% availability of all components, 15-minute RTO | All components are redundant. 99.9% availability of all components, 15-minute RTO | All components are redundant. 99.9% availability of all components, 15-minute RTO | All components are redundant. 99.9% availability of all components, 15-minute RTO | All components are redundant. 99.9% availability of all components, 15-minute RTO |
| Failure of a data center or multiple pieces of infrastructure in a data center (multiple hosts, power and backup, network connectivity, etc.) | Redundancy between data centers within a region. 99.9% availability, 15-minute RTO | Redundancy between data centers within a region. 99.9% availability, 1-hour RTO | Offsite backups are available, but capacity has not been reserved at another data center to run the solution. RTO is best efforts. | Offsite backups are available, but capacity has not been reserved at another data center to run the solution. RTO is best efforts. | Backups are sent to a warm backup DR host and virtual machine in an alternative data center. 24-hour RTO | Offsite backups are available, but capacity has not been reserved at another data center to run the solution. RTO is best efforts. | Backups are sent to a warm backup DR host and virtual machine in an alternative data center. 24-hour RTO | Capacity has not been reserved at another data center to run the solution. RTO is best efforts. | Capacity has not been reserved at another data center to run the solution. RTO is best efforts. |
| Deleted data due to customer actions | RTO is best efforts during business hours. Could have costs associated. | 8-hour RTO during business hours. | 8-hour RTO during business hours. | 8-hour RTO during business hours. | 8-hour RTO during business hours. | 8-hour RTO during business hours. | 8-hour RTO during business hours. | 8-hour RTO during business hours. | 8-hour RTO during business hours. |
Published: April 4/19
V1.3