We are now requiring that emails sent from GRC Workflow be generated from noreply@resolvergrc.com.
This is the default setting, but it is possible your system may have been assigned a different "from" email address in the past.
To verify, go to Administration>System>System Settings: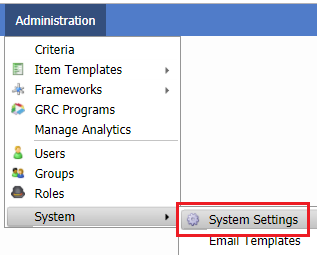 In the module that opens, scroll down to "E-mail from address for Workflow-based e-mails": 

If this has been changed from the default address, you will see a different email address here.
To change the address, simply erase the old email address and enter noreply@resolvergrc.com. Then click Save at the top of the page.