Knowing how to transition workflow states can save time and effort, especially during quarterly or year-end reviews. You can use a Hierarchical Report to transition workflow states in bulk. 
Open the Hierarchical Report Builder.

Select the Starting Location and Item Types.
Select the Entity Tab.
From the Select the columns to display screen, select the workflow you want to transition and any additional criteria you need. 
Click Generate Report.
The report will display your location items and the workflow column.
Hover your mouse over a workflow state you want to transition.
Click the icon to edit.
Select the All Items in this State checkbox.

Select the desired state.
All items that were in the original workflow state will transition to the selected state. For example, the items in Test State 4 have now moved to Test State Archived.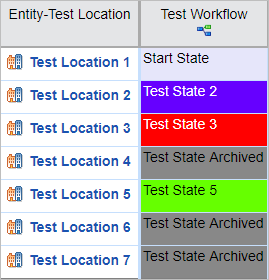 Note: You must notify process owners before bulk transitioning workflows states. 
Administrators should not transition states during the Period End process. During a Period End, the Reset Workflow option located in the location tree should be used.