What is the Resolver Customer Portal?
The customer portal makes it easy for Resolver customers to get help with their questions or issues. Through the portal, you can find Technical Support contact information or submit an online ticket, review help articles, access user guides, and get product updates.
What's the best way to contact Technical Support?
The best way to contact us is to submit a ticket. Submitting a ticket allows you to provide extra details, including screenshots or error logs, as well as include multiple questions or issues in a single ticket, all of which will help expedite the process. Plus, if you have an account on the portal, you can view, manage, and update your tickets all in one place.
What are the benefits of creating an account on the portal?
Creating an account on the portal will give you access to the My Activities page, where you can view, update, or comment on the tickets you've submitted to Technical Support. You'll also be able to view the requests you've been CC'd on and any articles you're following.
How do I create an account on the portal?
It's easy!
Click Sign In in the upper-right corner of any page on the portal.
Create a new account or set up your password:

If you haven't contacted Resolver Technical Support before:

Click Sign up beside New to Resolver?
Enter your full name and email address.
Select the I'm not a robot checkbox.
Click Sign up to have a verification email sent to you.

If you've contacted Technical Support previously, you probably already have an account, so you'll just need to create a password:

Click Get a password beside Have you emailed us?
Enter your email address, then click Submit and an email with password instructions will be sent to you.
What should I do if I forget my password?
Click Sign In at the top-right of any page on the portal, click Forgot my password, then enter your email address to have a password reset link sent to you.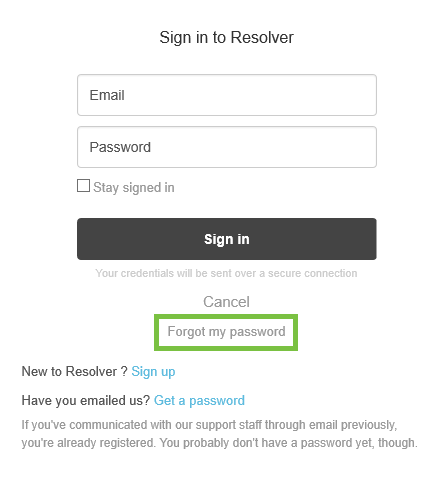 How do I view the tickets I've created?
After creating an account and signing in, click your name in the upper-right corner of any page, then click My Activities.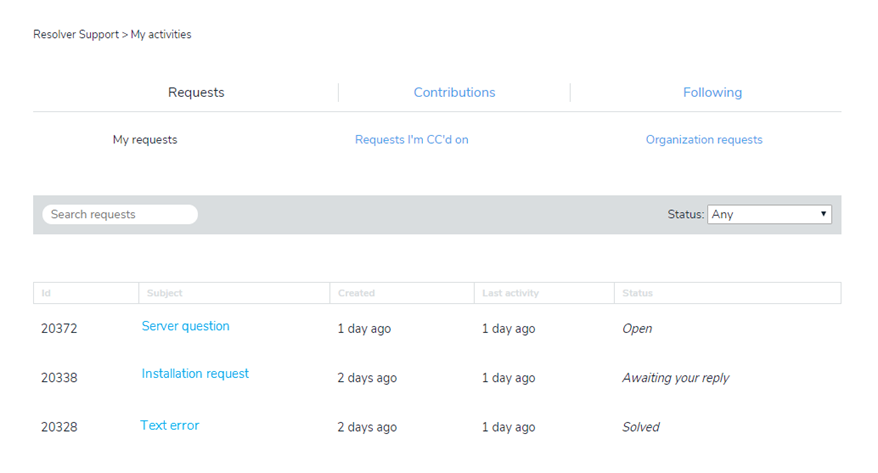 Can I view tickets other people at my company may have created?
See the Viewing Tickets Created By Others in Your Organization article for more information.
Do I have to create an account to get support?
Nope. You can always access the knowledge base and submit a ticket without logging in.